With the rumor mill suggesting that the Honda Monkey bike is set to return, it would appear that mini bikes are all the rage. So we decided to take a look at one that comes from a place a little closer to home.
If you are looking for the maximum fun per cubic centimeter, cubic dollar, or by the pound, the pull-start 80cc Classic Mini Bike from Monster Moto is hard to beat.
These bikes follow the same basic formula minibikes have used since the 1960s (lawnmower motor, wheelbarrow wheels, welded bent tube frame) updated a bit for the 21st century. Plus Monster Moto assembles all of their machines in Trail Ruston, Louisiana (with foreign parts), and tests them before shipping them out directly to you via UPS.
Alex Keechle, CEO of Monster Moto, is on something of a goodwill tour to promote the fact that the company's 100,000 square-foot headquarters/factory is finished, and the American assembly line is now humming. He brought two of the 80cc Classic mini bikes, a 80cc mini go-kart, and the electric micro mini to RideApart's Southern California stomping grounds to demonstrate last week.
In the spirit of classic mini bikes, we illegally commandeered a city park near the office, just like the bad kids in some 1980s movie, and wasted a good two hours of work time playing with them. I'll concentrate on the 80cc pull-start mini bike, but first let's touch on the e-Mini and the 80cc Go Kart.
Classic Go Kart
Admittedly, this go-kart is not designed for adults, as you can see from this picture, with 6-foot-tall regular-sized Rudy driving it. But it is still plenty of fun once you squeeze into it. The other testers, at 5 feet 6 inches and 5 feet 8 inches, both had a blast and looked less awkward.
The go-kart features the same 80cc 2.5 horsepower overhead valve Lifan engine as the mini bike, only with a jackshaft for lower final drive and better acceleration. Even after hauling around us big kids for over an hour, the motors started right up and ran fine. The gas and brake pedals are color coded (green means go, red means stop), so you should be able to get kids going in seconds.
It includes a seat belt, Nerf-like bars, kid-height roll bar, and a disc brake acting on the live rear axle, so it is 100-percent safer than any go-kart I recall from my childhood. With an 18 mph top speed, this is the perfect step up from a Power Wheels, and the seat adjusts for small kids with as little as 28 inches between seat back and pedals.
It is only 54 inches in total length, 32 inches wide, with a wheelbase of just 36 inches, but even on that tiny wheelbase the frame geometry and low center of gravity work to keep it on four wheels and drifting, not about to roll over or go up on two wheels. If you were to have some sort of incident, the whole thing weighs just 140 pounds ready to ride.
Classic e-Mini
It is hard to understand how small this micro mini is without a real-sized rider on it, so here is 5-feet-6-inches Angela for comparison. The whole bike is just 36 inches long, with an 18-inch seat height, and 26-inch wheelbase. Unlike the go-kart, I did have a go on this one, and though I looked like a circus clown, it was still fun.
These tiny silent bikes would be perfect for settling interoffice rivalries actually inside the office. These also feature a fully welded steel frame with a disc brake on the back and alloy wheels. A simple switch allows you to limit top speed to 7 mph while teaching kids to ride; full speed is still just 11 mph. A full charge takes several hours, but provides 45 minutes of continuous full throttle ride time. Weighing in at about 50 lbs, this bike is plenty tiny for any school-aged kid and rated for up to 130 lbs, but it will take twice that easily.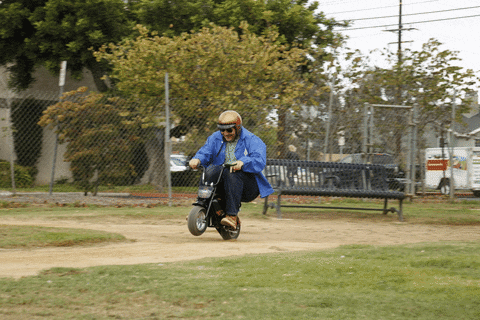 Admittedly, I had to use a little body English to get it up on the rear wheel, but seeing as how in order to fit my knees in my butt was hanging off the back, this was bound to happen. I also low sided it a couple of times, but it just kept on going. Add a set of ape hangers and a 6 feet or taller person could ride it around pretty easily, inside or out.
Classic Mini Bike
The 80cc mini bike is still aimed at kids, but it is the size you expect a minibike to be, and adults fit just fine. Fully welded steel tube frame, with nothing but the balloon tires to soak up bumps. Pull-start lawn mower-type engine with centripetal clutch for gas-and-go action. Mechanical disc brake on the back wheel, connected to the left handle, for better stopping than we ever had back in the day.
Ready to ride this bike still weighs in at substantially less than 100 lbs, so it can easily be transported even if you don't have a pickup truck. Top speed is a respectable 23 mph, plenty fast for such a small bike, though it takes its time to get there.
The frame design, including the front end geometry, is also way above what old school bikes were made with. You can see with Manuel (5 feet 8 inches tall) on the bike how much rake that front fork has, but it needs it to have any sort of stability with such small tires.
With just 2.5 hp this bike is never going to have blistering acceleration, but Alex assured me the clutch installed was chosen because of its slow and gradual engagement, to make it less intimidating for kids to ride.
I'm a 6 feet 2 inches tall, 250+ lbs bear of a man, and I'm fairly certain I got it up to full speed in the little park we had set up our course in. I even took it off some sweet jumps, and found it stable and forgiving, even with just the tires as suspension. It never felt sketchy or unstable, and I am sure I could have beat on it harder, if we had had the room.
If you have priced vintage mini bikes lately you may have noticed that just a frame from a Taco or a Rupp can run you $200, which makes the Monster Moto MSRP of $399 seem like an awesome deal.
The Classic mini has a 36-inch wheelbase, with a 23-inch seat height, and measures 50 inches total end to end. It comes in the pink and black "Muddy Girl" camo, and American Flag graphics shown, as well as a Realtree camo, and a classic black and red. The fenders, number plate, "tank" panels, seat, etc are available separately as well, so you can try your hand at custom paint.
The frames are powder coated for longevity, and the graphics are applied with water transfer, not paint or decals, to make them much harder to scratch off. And to address the number one old-school minibike problem, there is an adjustable chain tensioner to prevent you losing races because the chain came off. Monster Moto also thoughtfully wired up the bike with an on/off kill switch next to the throttle - which works every time - to prevent panicked runaway riders.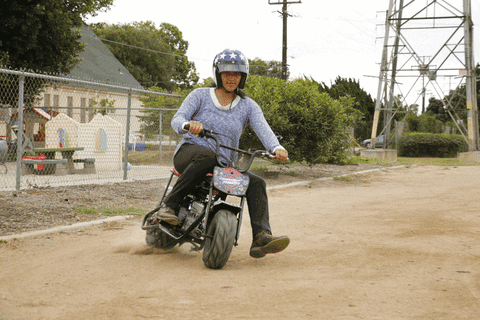 Think this bike is too slow for you? Or want an electric mini bike in the bigger size? Monster Moto has both more powerful gas versions of this bike, and an electric one in the works. Their new facility in Louisiana has plenty of room for them to grow, and plenty of dirt to ride on right outside the doors.
The aim, according to Alex, is to have 300 people working there assembling and testing bikes, as well as designing and evolving new product. You can expect more on RideApart about this bike, as they are sending us a long-term test bike to be able to race and ride as we wish.
Classic 80cc Go Kart
> MSRP: $699.99 (black & red), $749.99 (all other colors)
> Power: Lifan 80cc 2.5 hp four stroke overhead valve engine with jackshaft
> Transmission: Automatic no-shift centrifugal force clutch
> Maximum Speed: 18 mph
> Starter Type: Easy pull
> Brake Type: Hydraulic rear disc
> Tires & Wheels: 13.0 X 5.0R6.0 knobby tubeless pneumatic tires with steel rims
> Wheelbase: 36 inches
> Seat Height: 6.0 inches
> Dimensions: 138 lbs / 54.0" L x 32.0" W x 31.5" H
> Recommended Age: 14 and up
> Available Graphics Packages: Black & Red, Realtree Camouflage (pictured)
Electric e-Mini
> MSRP: $249.99 (red or pink), $279.99 (RCH Racing)
> Power: 250 W motor with rechargeable and replaceable 24v, 7Ah battery pack
> Run Time: Continuous 45 min
> Maximum Speed: Selectable 7 mph or 11 mph
> Starter Type: On and off switch
> Brake Type: Left hand operated rear disc
> Tires & Wheels: Cast aluminum rims with 10.8 X 4.3R6.5 low profile pneumatic tires
> Wheelbase: 25.5"
> Seat Height: 17.5"
> Assembled Dimensions: 51 lb / 36.0" L x 22.5" W x 29.0" H
> Recommended Age: 6 and up
> Available Graphics Packages: Pink or Red (both included in package), Carey Hart/Rickey Carmichael RCH Racing
Classic 80cc Minibike
> MSRP: $399.99 (black & red), $449.99 (all other colors)
> Power: Lifan 80cc 2.5 hp four stroke overhead valve engine
> Transmission: Automatic no-shift centrifugal force clutch
> Maximum Speed: 23 mph
> Starter Type: Easy pull
> Brake Type: Left hand operated cable actuated rear disc
> Tires & Wheels: 14.0 X 5.7R6.0 off-road tubeless pneumatic tires with steel rims
> Wheelbase: 35.5"
> Seat Height: 23.0"
> Assembled Dimensions: 78 lb / 50.0" L x 26.0" W x 33.0" H
> Recommended Age: 16 +
> Available Graphics Packages: Black & Red, Realtree Camouflage, Muddy Girl Camouflage, American Flag
The bikes and go-kart come via UPS directly from the Monster Moto factory, needing only minor assembly, with the included tool kit. The bikes need just the handlebar attached and gas/oil added before they can be ridden. Shipping is included in their retail price, and you can order from many online sources, including Amazon.
Monster Moto has a fully stocked warehouse full of replacement parts, and online videos and how-to help, as well as authorized service centers nationwide if anything should go wrong, but the best part of a bike this simple is that any lawnmower repair shop can work on it.
Special thanks to Manuel Carrillo for all of the good pictures in this piece, and Angela Molina for doing a good bit of the riding.
Gear: None really, save for the Fulmer American Flag helmet (only available from brick and mortar motorcycle dealers), and Angela's Bell retro full face.